My beloved Puffers, how I miss you already! You have been such an amazing companion these last 15+ years. I couldn't ask for a better behaved bunny or a better and amazing friend. Rest In Peace and may you have all of the alfalfa, clover and carrots your little body can hold! I still can't believe that you are gone...I miss and love you so much...thank you for 15 special and loving years!
In honor of my beloved Puffers:
If you have ever had a rabbit I think you might love this movie. The rabbits are absolutely adorable!!!!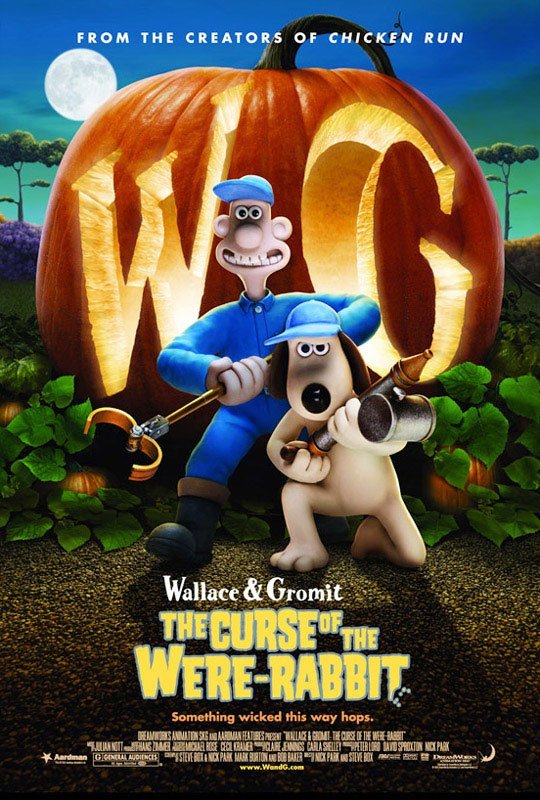 "Rating:
G ·
Genre:
Animation, Family ·
Run time:
1 hrs 34 min
Synopsis: It's 'vege-mania' in Wallace and Gromit's neighborhood, and our two enterprising chums are cashing in with their humane pest-control outfit, "Anti-Pesto." With only days to go before the annual Giant Vegetable Competition, business is booming, but Wallace & Gromit are finding out that running a "humane" pest control outfit has its drawbacks as their West Wallaby Street home fills to the brim with captive rabbits. Suddenly, a huge, mysterious, veg-ravaging "beast" begins attacking the town's sacred vegetable plots at night, and the competition hostess, Lady Tottington, commissions Anti-Pesto to catch it and save the day. Lying in wait, however, is Lady Tottington's snobby suitor, Victor Quartermaine, who'd rather shoot the beast and secure the position of local hero -- not to mention Lady Tottington's hand in marriage. With the fate of the competition in the balance, Lady Tottington is eventually forced to allow Victor to hunt down the vegetable chomping marauder. Little does she know that Victor's real intent could have dire consequences for her and our two heroes."
Did you know that rabbits are the third most popular pet/companion in Pierce County Washington?!? With that said they are also one of the third most abandoned or displaced (particularly around Easter) pets as well.
Have you ever considered a rabbit as a pet? Here are a few things/reasons to consider them!
Rabbits are very social, affectionate, lovable pets.

There are several different breeds that are available to best suit your situation and or personality

Rabbits can be very intelligent and trainable to do tricks!

Bunnies are entertaining and fun to watch.

Rabbits are clean.

They clean themselves top to bottom five times a day.

No barking.

No meowing.

Rabbits are very quiet!

Rabbits can get along with other pets such as dogs, cats, birds etc.

Rabbits can be house/potty-trained as well as trained not to chew on furnature/carpet etc.
Fun Fact: Rabbits are also CREPUSCULAR, not nocturnal which means that they are most active during the day like you and are active when you would most like to play/interact with them!!)
You can search for rabbits and bunnies that are available for adoption or to foster at
The Humaine Society
.